We are the Lansing Community College Chapter of the Michigan Association for Higher Education (LCC-MAHE).  We are the largest local bargaining unit at LCC, affiliated with the Michigan Education Association and the National Education Association. We are dedicated educators and committed to our students and our college.
LCC-MAHE represents over 1200 faculty and educational professionals by negotiating fair wages, benefits and working conditions for our members – and we've done this proudly since 1968!  In addition, we advocate for members when disputes arise between faculty and the administration.  We are here for you!
MAHE members are keenly aware of the central role they play in the lives of our students and the central role LCC has in the cultural and economic health of this community. We are committed to making LCC a better place to teach and to learn.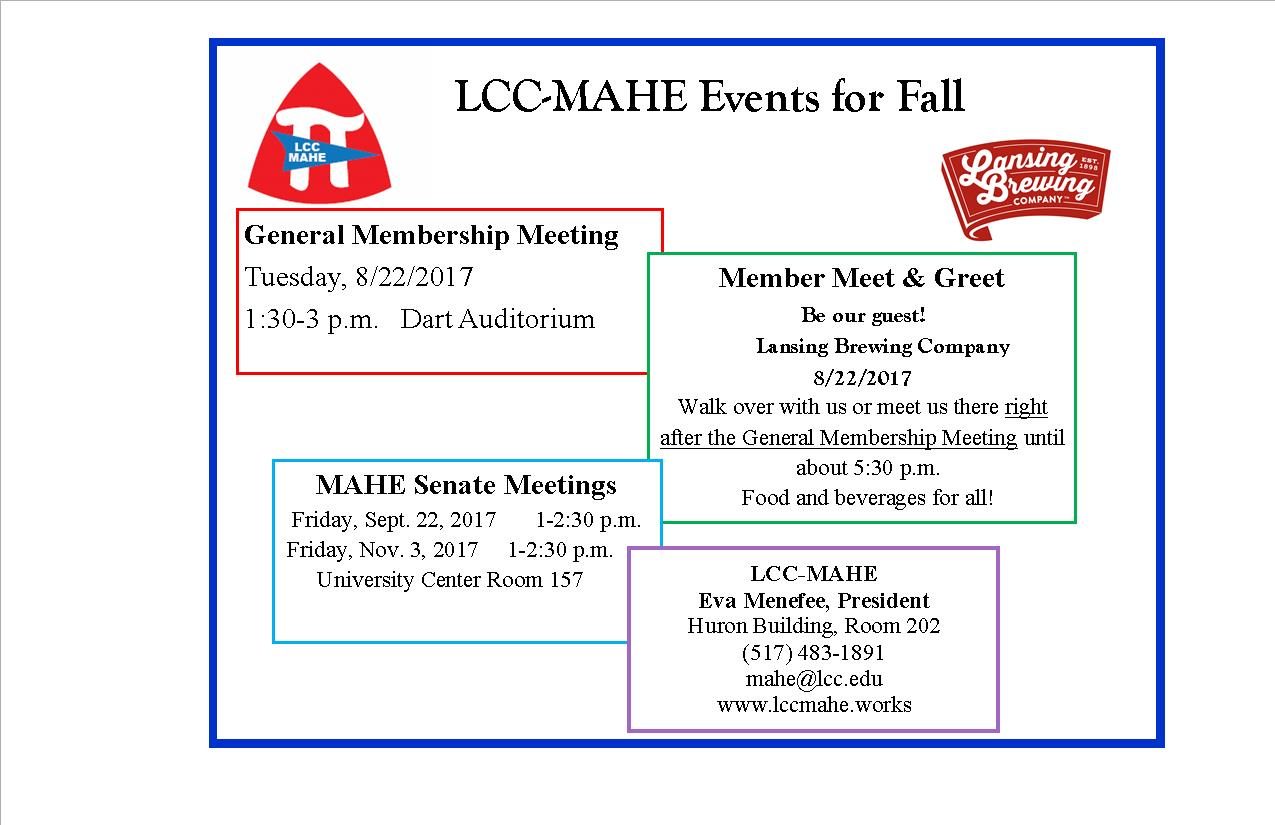 HEALTHCARE UPDATE August, 2017
The Health Care Task Force negotiated a new Tentative Agreement which, if ratified by MAHE members, would result in premium savings for full and part-time members. Your thoughtful votes are needed.  If approved, the TA will require us to leave MESSA and as a result, accept changes in benefits.
We need you to carefully evaluate the plans and determine what these changes would mean to you and your family members.  We have received these plan documents from HR to enable us to compare WMHIP plans to MESSA plans, and we are planning to hold meetings to discuss the TA and explain what we can. The accompanying documents should help you compare plans and costs.
Healthcare Documents:
LCC Healthcare Task Force TA 2017
HCTF LCC TA Illustrations 6 21 17 CORRECTED
2017-18 Rates for Unions
Plan Comparisons WMHIP 7-2017 
Blue Cross & Blue Care Network Custom Drug List (source: WMHIP)
Prior Authorization and Step Therapy Guidelines (source:  WHMIP)
Current LCC MESSA Benefit Comparisons
Health Care Informational Meetings:
August 21, 2017 (Monday)   5:30-7:30 p.m.    West Campus W157
August 23, 2017 (Wednesday)   1-3:00 p.m.   Main Campus HHS 102
August 24, 2017 (Thursday)   5-7:00 p.m.   Main Campus HHS 021
VOTING ON HEALTHCARE:
This will be an on-line election from Monday 8/21/2017 at 8:00 a.m. until Sunday, 8/27/2017 at 4:00 p.m.     https://www.mymea.org/OnlineVoting/          At this page you will enter your name and the last 4 of your SSN.  Please contact us immediately if you have complications using this on-line voting tool.